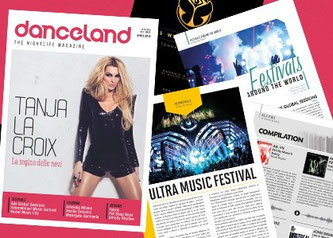 Un nuovo numero di Danceland che profuma di primavera. E che apre con Breaking News, le notizie del mondo dance, per poi passare subito alla Cover Story: l'elvetica Tanja La Croix.
Continua...

In Danceland oltre a Tanja La Croix anche le recensioni di album e compilation con Fabric, Pet Shop Boys, Markus Schulza, Strictly Rhythm e altri ancora. Face to face con Cristian Piccinelli e The Labels cioè "news discografiche e dintorni". Male djs: Bruno Bolla. Female djs: Nausica.
Per la Nightlife locali, one-night e festival. Top club Italy: Vanilla Riazzino. Festivals Around the World con decine di appuntamenti. Il Top Club Straniero è il Watergate di Berlino. Tra i reportage: Ultra Music Festival, Snowdays, Mazda e Tomorrowland per The Sound of Tomorrow e St Moritz Music Summit. Uno speciale sui Dance Music Awards. Special interview: visioni di Carlo Cavalli e uno speciale sulle scuole per dj.con Re.Creative 12,0 in primo piano.